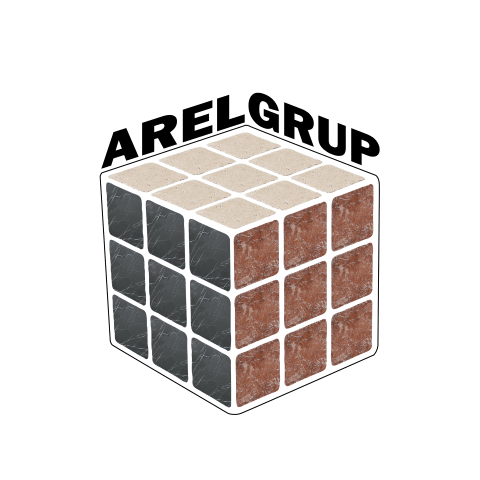 INFORMATION ABOUT LIMESTONE

What is Limestone?
Limestone formed by two ways. First way is the organic sedimentary rock type which is the aggregation of shells, foraminiferas, marine organisms like coral and algal residuals at the bottom of oceans or lakes. The calcium carbonate (CaCO3) in the form of the mineral calcite in these residuals form the grains of the limestone. Some organic type of limestone comprise silica, sand or mud in their structures that were carried by rivers. These types of limestone contains fossils and tell us important information about the Earth environment at their formation times.
The second way of formation of limestone is chemical sedimentary rock type. These types of limestone formed by the chemical precipitation of calcite in caves. For example stalagmites and stalactites are the chemical sedimentary rock type limestone which are formed by the precipitation of the calcium carbonate by underground waters. Limestone is comes from 'lime' and 'stone'. The word 'lime' is derived from German 'Leim', meaning 'glue'. Limestone made quicklime, which was used in mortar. You could say that mortar glues bricks together!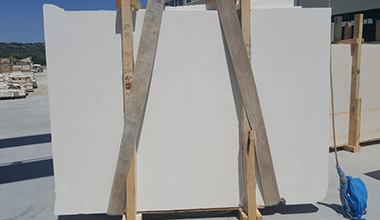 WHITE LIMESTONE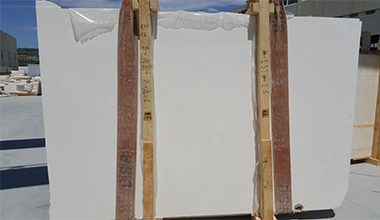 Thanks to its homogenous structure, thermal insulation and not to load heavy weighton constructions properties;the limestone preferred as the cladding material all over the world and is processed as block from the stone quarries of Antalya and exported all over the world.Due to the demand in the important projects, Finike White Limestoneis being carried out high-quality meters continuously.The products which have been passed through a certain quality control and separated into different selections are made ready to work according to the requirements of the projects.
It is generally used in exterior claddings so it offers a more homogeneous and clean appearance.Because United States and Arabic countries demand stones with light tones, factories in Turkey produce white limestone species with different sizes and surface treatments. It is mainly used for the claddingand it is ideally 3x40x80 cm in width.It is used as the surface area at the optimum levels in terms of price performance.Due to the absence of yellow sesame seeds on the surface of the stone, surface irregularities such as yellowing or fading do not exist over time.Due to its price advantage and ease of implementation, architectural offices and construction firms prefer in many projects.It can be used as cladding and split-facematerial in constructions like business centers, hotels, hospitals and villas.
White limestone with different surface treatments is generally preferred to be honed in the facade coatings.Since the white appearance ratio of the surface is higher after the honing process, the homogeneous appearance of the stone after application is increased.During the production made in the factory, the quality of the limestone is constantly controlled and the stones with vein movements are prevented from entering the crates.First class limestone production is being processed in different cut-to-sizes for the project details.Material used as exterior cladding material provides protection from the outside and prevents excessive heat from entering the buildingin summer when the temperature is too high.Thanks to this thermal insulation feature, the buildings provide energy advantage.
Limestone quarries are found in Turkey and in Iran also intensely.Despite the fact that the Iranian limestone is similar to the Turkish limestone, the limestone of the Antalya region is more prevalent as homogeneity.Selections with grained, wavy and whit is in the foreground.It is favored by the architectural offices because of its integrity in the structure after the application.The material which can be preferred as interior wall and floor covering material is also produced as split-face in small sizes.The small pieces that separatedin the factory after productionare reused as standard sizesin the blasting plant and made available.Project-based productions are processed in our factory and ready for export. White limestone which can be worked together with marble and limestone varieties of other color tones can also contains color tone differences within itself.Processing of blocks extracted from different quarries is done according to the selection requested in the project.In high-quality facade cladding projects, the processing of blocks from the same quarry is important for the adaptation of the selection.
Limestone Usage Areas
Limestone has many usage areas from construction sector to chemical sector. Because lime stones' decorative, durable and easy processing structure; it's widely used in wall cladding and flooring all over the world. For architectural usage it's mainly used in interior than exterior areas. Weather conditions like rain, snow, air pollution affect appearance of limestone negatively. Because of its soft and spongy structure weather and impact affect is so low.
Egyptians use limestone blocks for building their pyramids. Great Pyramid and Giza Pyramid were all constructed with limestone in ancient times. Romans also use limestone as a building material. They mix volcanic ash with limestone to form a concrete in order to construct their buildings.
Other usage areas of limestone are aggregate material for roads, production of cement or mortar (especially low grade of lime stones), as a filler in products like toothpaste or paints, soil conditioner to neutralize acidic soils etc.
Limestone also used very much during the Byzantium and Ottoman Empire Era for buildings in Istanbul such as Hagia Sophia, the Mosque of Süleyman the Magnificent and the Walls of Constantinople surrounding the old city of İstanbul. The Eski Camii (Old Mosque), the Üç Şerefeli Cami (Three-Level Mosque) and the II.Bayazit Külliyesi (Second Beyazit Complex) are the another buildings, which exemplifies different styles of the Islamic architecture build by the Ottomans used limestone blocks.
Limestone Usage Areas
Flooring
Wall cladding
Vanity tops
Furniture & Casework
Cement Production
Refining Metals
Blackboard chalk
Limestone Colours
Pure limestone is often white sandy in colour but coloured impurities determine the colour of limestone. Impurities are clay, sand, organic remains, iron oxide and other materials. Iron oxide making limestone brown, yellow or red whereas carbon minerals making it blue, black or gray.
Limestone Finishes
Polished : Polishing can only applied to harder types of lime stones. This type of finish gives stone a bright surface and highlight the character of it.
Honed : As opposite to shining surface of polished surfaces, honed surfaces obtain matte appearance to the stone. Honed surfaces make a room feel more inviting or warmer than a highly polished surfaces. Honed surfaces are the most preferred type of finishes for limestone.
Sawn : This type finish sometimes show the coarse blade marks from the gang saw or the circular marks of a disc saw as sawn from the limestone block.
Sandblasted : With the help of a blasting machine a mechanical finish applied to the surface of limestone in order to provide slightly scratched surface. The degree of scratchiness based on the rate and length of time of the blasting to the limestone surface.
Flamed : Only a few number of lime stones that flaming can be applied. It is possible to achieve a flamed finish when limestone is composed of several dissimilar minerals with differing rates of thermal linear expansion. These minerals expand and break from the face of the stone when high heat exposed to the surface of limestone. Application time of flaming is important for this surface. If flame applied for a prolonged time it is possible to burn the limestone. The flamed texture that a limestone achieves will be flatter than the flamed texture of an igneous stone.
Bushhammered : Chiselled type bush hammer is used making bush hammered surface on limestone. According to customer demand many types of bush hammered textures can applied.
Tumbled : Tumbling applied in order to provide antique finish. Limestone tiles placed in a mixing barrel with small stones, large aggregates and water. All these materials turned in this mixing barrel in order to tumble the edges and corners to provide worn outlook.
Acid Washed : For this type of finish diluted acid solution applied to the surface of limestone to provide antiqued appearance. Because low dilution of acid or prolonged application harm calcareous structures; attention should be paid to these situations.
Grade of Limestone
Select Grade : Fine to average-grained stone having a controlled minimum of the calcite streaks or spots, fossils or shelly formations, pit holes, reedy formations, open texture streaks, honeycomb formations, iron spots, travertine-like formations and grain formation changes characteristics.
Standard Grade : Fine to moderately large-grained stone permitting an average amount of the above characteristics.
Rustic Grad : Fine to very coarse-grained stone permitting an above-average amount of the above characteristics.
Variegated Grade : An unselected mixture of grades 1 through 3 permitting both the buff and gray colors.
Limestone Slab & Tile Thickness
There are two slab thicknesses most commonly chosen when selecting/fabricating limestone; 2 cm is ¾" thick & 3 cm is 1 ¼" thick. But slab thickness can be from 20mm to 2000mm.
Limestone Tile Sizes
3" x 3" x 3/8"
4" x 4" x 3/8"
6" x 6" x 3/8"
8" x 8" x 3/8"
12" x 12" x 1/2"
12" x 18" x 1/2"
12" x 24" x 1/2"
18" x 18" x 1/2"
24" x 24" x 3/4"
Limestone Edge Details
Eased/Straight, 1/2 Bevel, 1/4 Bevel, Half Bullnose/Demi Bullnose, Full Bullnose, Double Bevel, Dupont, Cove, Ogee.
Limestone Types
There are three types of limestone; oolitic, calcitic and dolomitic. Chemical composition of limestone determine types. Apart from the main types dolomitic and calcitic types can vary based on the proportion of calcium or magnesium that is present.
Limestone Classification

Minerals Present

Elements Present

Calcite %

Dolomite %

% Calcium

% Magnesium

Limestone (Calcite)

90 - 100

00 - 10

95 - 100

00 - 05

Dolomitic Limestone

50 -90

10 - 50

75 - 95

05 - 25

Calcitic Limestone

10 - 50

50 - 90

55 - 75

25 - 45

Dolomite

00 - 10

90 - 100

00 - 05

45 - 50
LIMESTONE PHYSICAL & CHEMICAL PROPERTIES
Physical Properties of Limestone
Physically, lime stones are quite impervious, hard, compact, and fine to very fine grained calcareous rocks of sedimentary nature.
PHYSICAL PROPERTIES TABLE

Hardness

3 to 4 on Moh's Scale

Density

2.5 to 2.7 Kg/cm3

Compressive Strength

60-170 N/mm2

Water Absorption

Less than 1%

Porosity

Quite low

Weather Impact

Resistant
Chemical Properties of Limestone
Chemically, they are calcareous rocks principally of calcic minerals with minor amounts of alumina, ferric & alkaline oxides.
CHEMICAL PROPERTIES TABLE

Lime (CaO)

38-42%

Silica (SiO2)

15-18%

Alumina (Al2O3)

3-5%

MgO

0.5 to 3%

FeO + Fe2O3

1-1.5%

Alkalis

1-1.5%

Loss On Ignition (LOI)

30-32%