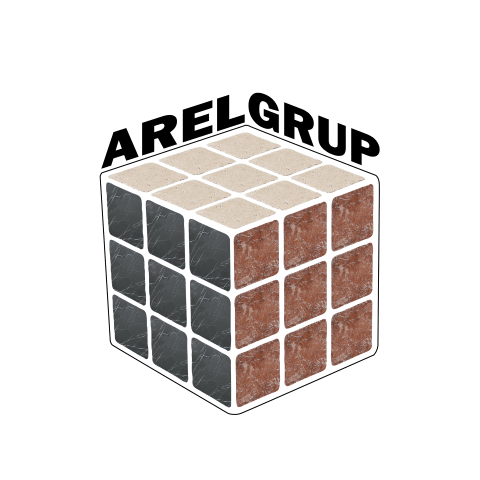 INFORMATION ABOUT GRANITE

What is Granite?
Granite is ingenious and plutonic, large grained (which its name derived from) rock mainly formed with quartz and feldspar with minor amounts of mica, amphiboles and other minerals.
Granite is an igneous rock and is formed from magma. According to magmatic theory it is derived by the crystal fractionation of magma. Thus granite bodies are the result of intrusion of liquid magma into the existing rocks. As a result slow cooling pockets of magma which forms larger crystals of granite. Granite is plutonic (large, deeply buried body); because the grains in its body randomly arranged instead of designed structure.
The second distinctive feature of granite is it's formed with coarse grains. The word "granite" derives from the Latin granum. There is not one uniform size of grains of granite. The grains are rough and large enough to be easily visible.
The third and last characteristic of granite is the consistence of quartz, feldspar and other minerals in it. All granite types always composed quartz and feldspar minerals with or without different kind of minor amount of other minerals. Consistence ratios are 50% or greater feldspar, 25-40% quartz and 3-10% other minerals like mica, amphiboles, biotite and hornblende. These minerals in granite determine color, texture and structural characteristics. Light colours such as white to pink colour scale come from quartz and feldspar grains whereas black colours is the reason of biotite and hornblende in various colours of granite species.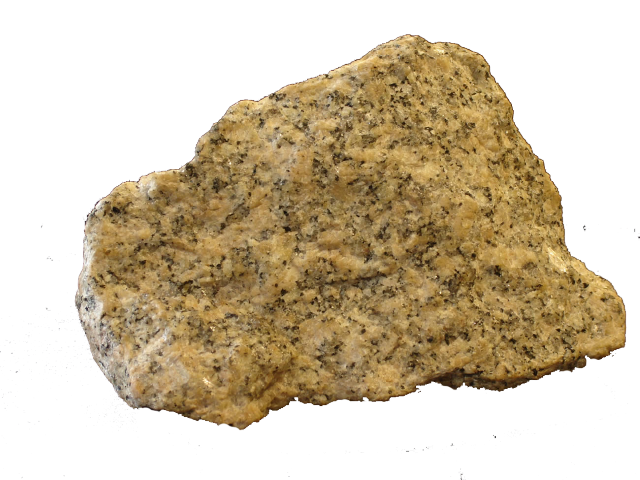 Granite Usage Areas
From Egyptians to today granite used as a construction, architectural material used interior and exterior applications. Because granite has high durability and aesthetic qualities it is used as a "dimension stone" (natural stones which has cut in to blocks or slabs of specific length, width and thickness).
In exterior projects polished or honed granite tiles used for cladding, flooring, monuments, gravestones, pavings etc. In indoor applications, polished granite slabs especially used for manufacturing countertops and backsplashes. Usage areas of granite as seen above is rough areas for weathering and maintenance conditions. The hard enough to resist most abrasion, inert enough to resist weathering characteristics make granite valuable for monuments, gravestones and exterior projects. The strong enough to bear significant weight and acceptation of brilliant polish characteristics make granite indispensable material for manufacturing countertops and backsplashes.
Granite is also used as a crushed stone or aggregate. In this form it is used as a base material at construction sites, as an aggregate in road construction, railroad ballast, foundations and anywhere that a crushed stone is useful as fill.
Most common indoor granite usage areas
Floors & Walls
Stair Treads
Countertops & Backsplashes
Bath Vanitytops
Fireplace Mantles
Bathroom Sinks & Basins
Granite Medallions
Most common outdoor granite usage areas
Floorings & Claddings
Stair Treads
Gravestones
Pavings
Monuments
Outdoor Fireplaces
Outdoor Countertops
Granite Colours
Granite colours vary according to where granite reserves are located and the minerals in the earth where it was formed. Mixture ratios and arrangement of the mineral crystals determine the texture and colour of granite slabs. Colours of granite change white to absolute black. Grey, blue, brown, green and red coloured granites are main colours of world famous granites.
If quartz and albite is higher ratio in granite; granite patterns prone to white to grey colours scale. Higher ratio of potassium feldspar according to other mineral presence change the colour of granite slabs to pink. Biotite is the main decisive mineral for dark colours especially black.
Scarcity of granite also determine the price scale. Some colours exist rarely whereas some colours in abundance. Most common colours are found and demanded in Turkey are Absolute Black, Black Galaxy, Tan Brown, Rosa Porrino, Rosa Beta, Baltic Brown, Blue Pearl and Emerald Pearl. Some rare colours of granite in our country is especially the exotic ones that are imported from Brasilia such as Carioga Gold, Juparana Fantastic, Humiata, Lynx etc.
Granite Finishes
Polished Finish is the buffing of raw granite slab to the highest level. Polished surface is the most shiny and reflective finish type of granite. Because polishing highlight the character of granite and provide resistance to moisture, dirt and chemical cleaners; it's mostly preferred manufacturing countertops.
Honed Finish is again the buffing of raw granite slab less than the highest level. After this process smooth but matte surface obtained. This type of finish preferred wet grounds where presence of water might make a polished finish slippery, or where foot traffic may wear off a polished finish. Honing decrease the colour and patterns of stone and makes it more sensitive to staining.
Flamed Finish is the execution of flame to the raw surface of granite. This type of finishing applied to the exterior surfaces like entrance roads where slipping risk is maximum.
Bush-Hammered Finishcarbide tipped bush hammer is used making bush hammered surface on granite. Serrated face of hammer transferred directly onto the surface of granite. Like flamed finish; bush hammered finishes applied for exterior applications.
Sandblasted Finish is hardened silica sand sprayed to the granite surface to be treated by a blasting machine. Sandblasting applied to the whole surface of granite in order to provide a smooth abrasion, leaving the material with a slightly scratched (but not rugged) surface. Names and designs can be sandblasted on granite surfaces like monuments, gravestones.
Leathered Finish is the new type of surface process. It adds texture to the surface. Honed surface swept with diamond tipped brushes to obtain leathered finish. The process brings back the color and closes pores on the surface. Leathering obtain neither matte surface as honing nor shining surface as polishing.
Grade of Granite
Grade of granite determined by the existence of quartz, feldspar, mica, other mineral, surface process quality and how it is cut. Low grade granite named as commercial or second quality granite that has excess soft minerals in the structure of granite and has less colour types. Mid-grade quality granites have fabulous colour and textures whereas they don't have exact uniqueness. Exotic and high end granite types have sole colours, patterns and types.
Granite Slab & Tile Thickness
There are two slab thicknesses most commonly chosen when selecting/fabricating granite; 2 cm is ¾" thick & 3 cm is 1 ¼" thick.
Granite Tile Sizes
Tiles are usually cut to standard sizes of 12" x 12", 16" x 16", 18" x 18" and 24" x 24". Tiles range in thickness from 3/8" to 3/4".
Granite Edge Details
Eased/Straight (Standard Edge - No additional cost), 1/2 Bevel (Standard Edge - No additional cost), 1/4 Bevel (Standard Edge - No additional cost), Half Bullnose/Demi Bullnose, Full Bullnose, Double Bevel, Dupont, Cove, Ogee.
Straight

1/2 Beveled

1/4 Beveled

Half Bullnosed

Double Beveled

Dupont

Cove

Ogee
Granite Types
As mentioned magmatic theory above; granite is the intrusion of liquid magma into the existing parent rocks. These parent rocks determine the type of granite. From this definition I-type granite is formed from igneous parent rock, S-type granite is formed from sedimentary parent rock and M-type type is derived from mantle rocks.
GRANİTE Physical & Chemical Properties
Physical Properties of Granite
Physically, commercial granites are hard, compact rocks with fine to coarse grains of metamorphic or igneous origin.
PHYSICAL PROPERTIES TABLE

Hardness

6 to 7 on Moh's Scale

Density

2.6 to 2.8 Kg/cm3

Compressive Strength

140 to 210 N/mm2

Modulus of Rupture

15 to 25 N/mm2

Water Absorption

0.1-0.6%

Average Wear

Less than 1%

Porosity

Quite low

Weather Impact

Resistant
Chemical Properties of Granite
Chemically, they are igneous/metamorphic rocks composed of quartz, feldspar & ferromagnesian minerals like chlorite, garnet etc. A typical granite will have following chemical composition:
CHEMICAL PROPERTIES TABLE

Silica (SiO2)

70-75%

Al2O3

10-15%

CaO+MgO

Less than 0.5%

FeO + Fe2O3

2-4%

Alkalis

4-6%

TiO2

Less than 0.5%

Loss On Ignition (LOI)

Less than 0.5%