BUSINESS PARTNER IN TURKISH NATURAL STONE SPECIES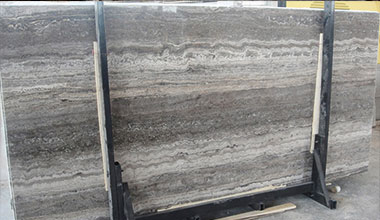 -- Iran Silver Travertine --
Turkey has made a great deal of business with its position of presenting many stone for the first time in the world in terms of natural stone reserves and processing of Turkey. Most important marble quarries in Central Anatolia provide millions of tons of raw marble block per year and these blocks are processed in our factories and become polished slabs or cut-to-sizes material. The Turkish marble varieties have taken place in many major projects and have become particularly demanded by worldly well-known architectural offices. For many years, the marble industry has improved itself and the machine park has been upgraded with Italian quality machines and innovations in particular. Many of the projects you request for your projects are classified according to their quality levels and are presented to you in export quality.
Burdur Beige Marble selections made in Turkey are preferred as main application marble in many projects. Beside its homogenous structure, white and beige color tones make it possible to increase the value of the entire plant by working in harmony with other marble varieties. Due to the quality and durability of beige marble selections, it can be easily used in wide area flooring, columns and wall covering, steps and all other areas. Toros Black Marble are preferred in many boutique projects as countertops, flooring and special design areas material. The selection of white thin and thick vein structures on black base color adds a serious value to the project due to the application of vein selections. Black marble selection, which is also known abroad, is prepared for export projects and supplied for projects. We offer Iranian Taurus Black Marble selection for your high-demand requests and offer the sale at more affordable prices.
Limestone, which is used as exterior cladding and is known for its thermal insulation, is the most preferred type of natural stone in Turkey, where production and exports are the most important. Due to its low density, it does not overload the structure even if 3 cm thickness is used and it looks like a uniform structure on the outer facades thanks to its homogenous structure. It is divided into sub-selections within itself: white homogeneous limestone, limestone with sesame, Finike limestone, champagne limestone and fossilized limestone. Iran limestone varieties are also offered to projects in terms of price compliance and proximity to Arab countries.
Travertine varieties come to the forefront as the first choice that comes to mind in terms of Turkish natural stones. Travertine varieties, which have been produced for many years, group together Denizli and Konya and create a competitive advantage in terms of production. Turkish Travertine varieties are exported to many countries, mainly to United States. Turkish Travertine selections are; Light Travertine, Noche Travertine, Classic Travertine, Silver Travertine and Ivory Travertine. The requested travertine selection for the projects is produced in the factories and prepared in export quality and sent to the ports. Travertine which can also be used as facade cladding has to be advised to use unfilled in countries with warm climate. Iranian marble varieties have started to open to world markets over Turkey for the last years. As an alternative for your requests for high-quality marble projects, we also offer Iranian marble selection.
Please contact us for your Turkish natural stone variety needs…